We are all Creative Beings. Being creative isn't just about painting, singing, and crafting. It is about learning to think flexibly and find new and innovative ways to learn, work and play.
Below are some resources that I highly recommend. They are all books and resources that I have used to enhance my understanding of creativity and innovation. They are easy and enjoyable to read and offer many insights into the world of CREATIVITY.
Books for Adults: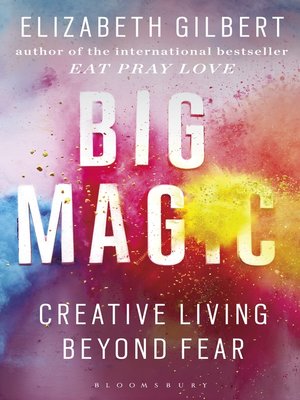 "Big Magic" by Elizabeth Gilbert
Reading this book was a huge "A-HA!" moment for me. It opened my eyes and gave me the courage to delve deeper into what it is that drives me and what I want to be doing with my life. A must read for anyone – whether you are already living a creative life, or wanting to start but are too afraid. Funny, easy to read and thoroughly enjoyable.
"Wired to Create" by Scott Barry Kaufman & Carolyn Gregoire
This book is an intriguing insight into the minds of creative people from musicians and artists through to business people , scientists and ancient philosophers. It looks at the habits of creative people including imaginative play, daydreaming, solitude, intuition, openness to experience, mindfulness, sensitivity and turning adversity into advantage. This book highlights the importance of a creative mind for innovative and original thought and idea generation. A must read for people looking at honing their creative skills, or for those trying to understand their 'messy' creative minds.
Books for Children (and Adults):
Check out my Post about the following books: 3 Picture Books that Inspire Creativity and Innovation
Young people can be transported to another world through the magic of books. And there are millions to choose from! And the types of books we are drawn to is very dependent on our experiences, likes, dislikes and so many other factors.
The books below I love with my 'teacher hat' on. They are beautiful stories with so much potential as a starting point for inquiring into creativity and innovation.
Peter H. Reynolds writes beautiful books about creativity and the creative struggle and journey. Ish is a simple tale of how being enough is enough. A fantastic thought provoker and one that there are plenty of teacher resources for online.
Another by Peter H Reynolds that is worth a look is Dot. Check out the read aloud below.
Websites:
The Creativity Post: This website has hundreds of fantastic articles about creativity and innovation. It covers all learning areas including Pop Culture, Tech, Psychology, Business and more. Click The Creativity Post to check it out.
Left Brain, Craft Brain: This is a fantastic website for people looking for great STEAM and STEM ideas for their classroom or at home. A great number of FREE printables too! Click Left Brain, Craft Brain to check it out.
TeachThought – We Grow Teachers: This website has very readable articles and a podcast (and they also offer professional development) in a multitude of topics around inquiry, project-based learning, innovation, creativity and many other topics geared towards improving how we teach TODAY'S students. I also love that they have a section called 'Fun'. Perfect! Go to TeachThought – We Grow Teachers to check it out.
Wonderopolis: Have you got students who are always asking a hundred and 1 questions? Looking for something for remote learning that is engaging and diverse and get students delving deeper? Do you love discovering cool new resources to enhance your lessons or even for your kids at home? Look no further. This is a beautiful site that asks many many wondering questions and provides answers – and ISN'T WIKIPEDIA!! Their catch phrase? "Where the wonders of learning never cease." Brilliant! Go to Wonderopolis to check it out.
Music Education:
Music teaching is my profession and there are some great resources out there. Here are some of my favourite "go-to"s.
Midnight Music: Katie Wardrobe is very engaging and creative. Her website and resources are all based on simplifying music technology for educators. She offers lots of great online training both free and paid. Check out her facebook page as she posts regularly with great ideas and tips. Click Midnight Music to check it out.
Make Moments Matter: David Row is an American music educator who offers great resources on his website Make Moments Matter and also has a strong presence on Teachers Pay Teachers and Facebook. His ideas are easy to follow and well worth a visit. Go to Make Moments Matter to check it out.
Other Bits and Pieces:
"Lyons' Special Spark – Inspiring Musical Creativity and Innovation" by Jennifer Trijo. This article is a Special Feature in Australian Teachers Magazine about how I use digital technology in the Music classroom. Read the full article here.
"Magic Lessons" Podcast – by Elizabeth Gilbert. This podcast follows on from the book, "Big Magic". It is a wonderful, easy to listen to, inspiring podcast. A must listen for anyone at a creative crossroad. To find podcast: click Magic Lessons
"The Creative Life" Podcast with James Taylor. Similar to "Magic Lessons", James Taylor's podcasts are for creative people looking for inspiration and new ways to get their creative projects and ideas started or just out of a rut. He speaks with musicians, dancers, artists and entrepreneurs about this work and their own creative journeys and ideas. To find podcast: click The Creative Life
Edward De Bono – Creative Innovation 2010 "Re-Thinking the Future". This is a great talk by De Bono that clearly talks about why it is so important for us to learn how to think creatively. He discusses how we have excellent thinking skills but not for creativity. "Our existing thinking is good for recognising past and standard situations, but not good for designing new possibilities". To watch the clip: click Here.
TED Talks. You want to hear someone talk about something? Check out a TED Talk. I have found them to be incredibly inspiring and enjoyable. Some I recommend are:
WATCH THIS SPACE
More exciting new resources and ideas COMING SOON